SaaS Analytics Dashboard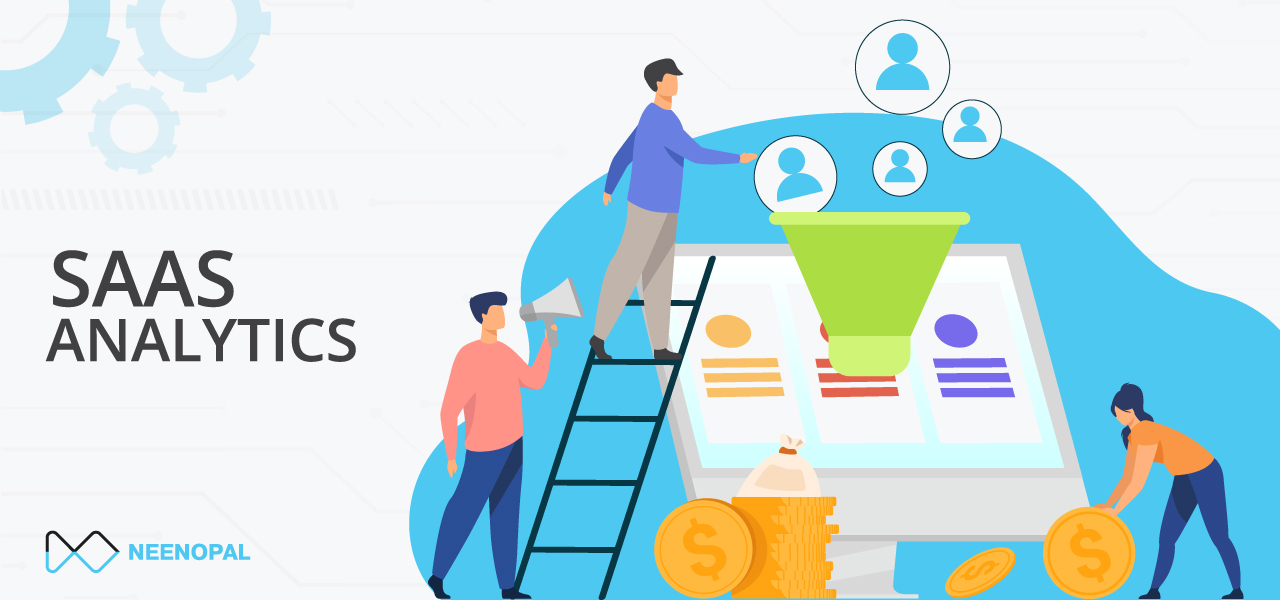 Software as a Service, or SaaS dashboard is a powerful business tool that can provide a quick snapshot into the health of your business
Right from reducing churn to increasing customer engagement and finally revenue growth, ambitious businesses can analyse all touch points in no time through the dashboards.
Why SaaS Dashboards?
In the last decade, SaaS market has experienced tremendous growth and expansion. With innovation and new products emerging in the markets, competition has never been so fierce. Whether it's an IT report or company finances that you want to dive into, a clean interactive screen is much better than complicated spreadsheet analysis. Dashboards maintain awareness of key metrics, how they interact and how to improve them for a better performing and profitable business.
For example, companies providing software-as-a-service are commonly subscription based. These companies would look into key metrics like – monthly recurring revenue, churn rate, retention rate, customer lifetime value, customer acquisition cost etc. If the company leverages its historical data, the senior executives can get a panoramic view of the critical business metrics. Decisions related to customer driven initiatives, marketing trends, smart investments etc can be taken on a deeper and more practical level.
SaaS Overview Dashboard
Key Terms:
Monthly Recurring Revenue (MRR) – Revenue that a company expects to earn every month.

Average Revenue per User (ARPU) – Revenue generated per user.

Customer Acquisition Cost (CAC) – The average cost borne by the company to acquire a customer.

Customer Lifetime Value (CLTV) – The total value that a customer brings to the company over their entire time as a customer.

Churn – The % of customers who leave the company (typically calculated for a month).
Goals

Questions to ask

Dashboard views

Grow Company Revenues


Spot abnormalities that might affect revenue and growth
How is net revenue trending over time?


How is customer base changing over time?


Are we getting the desired return on investment?
MRR Trend
Base MRR + New + Upsell – Churn-Downgrade

Customer Trend
Churn%, Total customer trend

CLTV/CAC Trend
CLTV/CAC Ratio, ARPU
Monitor the three most critical aspects of the business - Recurring Revenue, Consumers and Operational Costs with key KPIs at glance views.

MRR is one of the most important metrics for financial growth. The view on the top gives the MRR changes from month to month thus providing a rough idea on how the company is growing over time. Not only that, short term and long-term growth plans can be devised basis projections and forecasts from the existing data.

CAC and CLTV provide useful insights into company's customer base. Together they provide return on investment details from an acquired customer. Through the CAC/CLTV ratio, understand how profitable/unprofitable you are across your customer base. As a company matures, this ratio can be a benchmark while planning strategic/operational initiatives.

Analyse your customer base month on month to spot changes at the top of the funnel that might affect MRR.
Your Trusted Partner for SaaS Analytics?
Discover how our SaaS team Experts can help transform your business.
Contact Us
SaaS Marketing Summary
Key Terms:
Leads – Contacts that come from marketing efforts and express some level of interest in the product

MQL – Marketing qualified lead is someone who engages with your content

SQL – Sales qualified lead is someone who is ready to be engaged with direct sales.

Opportunities – Someone who is likely to become a customer.

Wins – Someone who purchases your product.
Goals

Questions to ask

Dashboard views

Track the customer journey through sales funnel

Visibility into marketing investment returns and success of various campaigns
What is the customer conversion rate?

How is revenue trending over time and across channels?

Which regions, customer roles and marketing sources are contributing to most revenue
Leads, MQL, SQL, Opportunities, Wins

CAC Trend, Spending and Revenue per Source


Leads by
Channel,Role,Region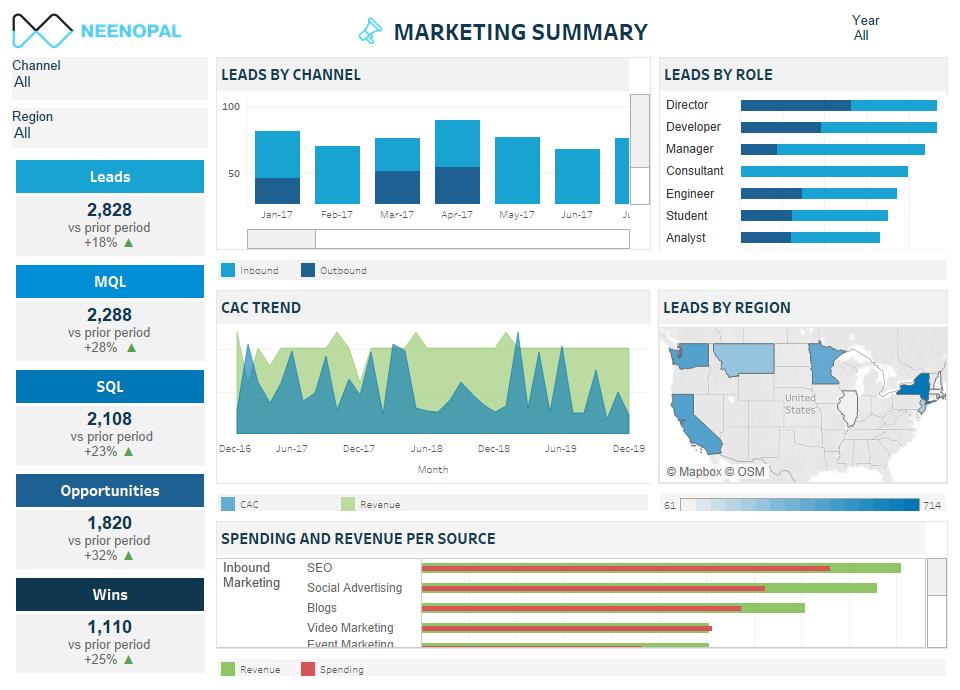 As a marketer, understanding your Sales Funnel is very important. The funnel breaks the sales journey into five distinct stages to help understand what percentage of leads finally become our customers. It helps identify any sticking points in the process.

Potential customers can be identified easily once the leads are broken down by region, role and source of marketing. The marketing strategy can be different for every customer cohort and the marketing investment can be identified accordingly.

The monetisation metrics help understand how your marketing efforts are growing the business in concrete terms. Being too conservative with how much you're willing to spend on CAC can lead to missed opportunities for revenue and growth from new customers; but being too reckless with it can lead to often critically low profitability.
SaaS Customer Retention
Key Terms:
Retention – The % of customers who stay with the company (typically calculated for a month)

MRR - Revenue that a company expects to earn every month.
Goals

Questions to ask

Dashboard views

Track customer retention


Migrate customers to different subscription plans ensuring growth in recurring revenue.
How successful are you in retaining your customers?

Are your product plan strategies attracting more customers?

What is causing customer churn and downgrades?
Account Retention

MRR
Corporate/Individual
Subscription Type

Cancelled Accounts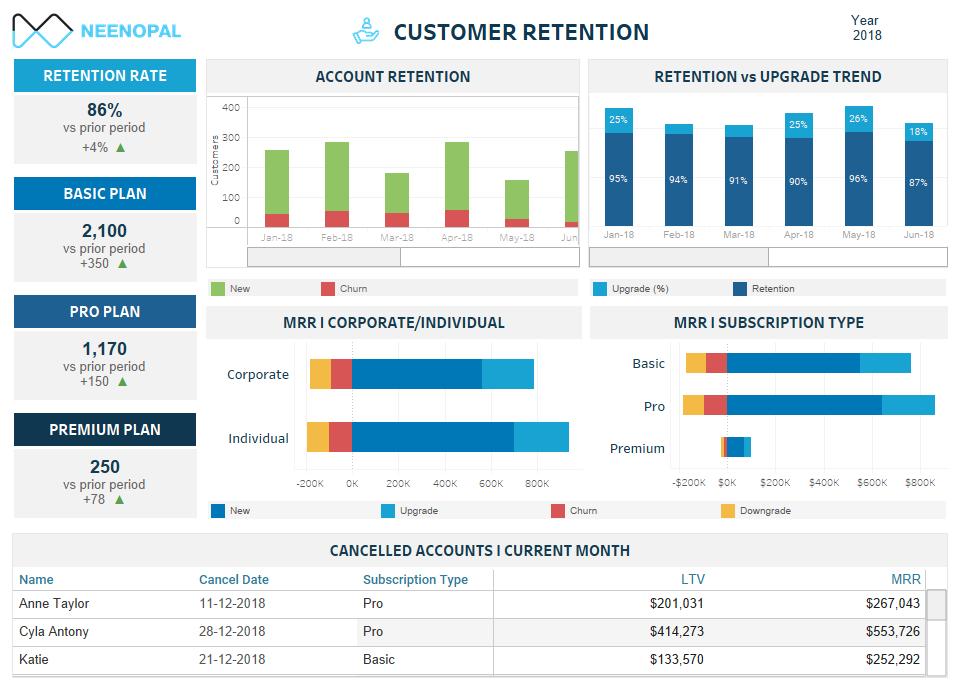 It's necessary to prioritize existing customer's retention over acquiring new customers for winning at churn and retention cycle. If the retention is not done right, you can go into loss as you acquire more customers.

Upselling can be a good retention strategy and can be tracked for more revenue from long term customers. Comparing revenue across different customer segments can give insights to plan customer centric retention strategies. Some retention strategies can include, regular interaction, frequent upgrades, reward programs etc.

Identifying cancelled accounts for conducting exit surveys can give enormous insights to things that are going wrong currently and can be avoided for future.
SaaS Subscription Analysis
Key Terms:
Upgrade – Customers who have moved up to a higher level of your product offering

Downgrade - Customers who have moved down to a lower level of your product offering

Churn – Customers who have cancelled their subscription with your product

Converted Trials – The percentage of your customers who upgraded from the trial version to a paid version of your service.
Goals

Questions to ask

Dashboard views

Grow subscription revenues


Raise overall trial conversion rate
How is your subscription-based revenue trending over time?

How is your trial conversion rate changing over time?

Which subscription model is performing better and why?
Revenue by Subscription
Breakdown Summary

Converted Trials, Visitors, Signups and Paying Customers

Revenue by Subscription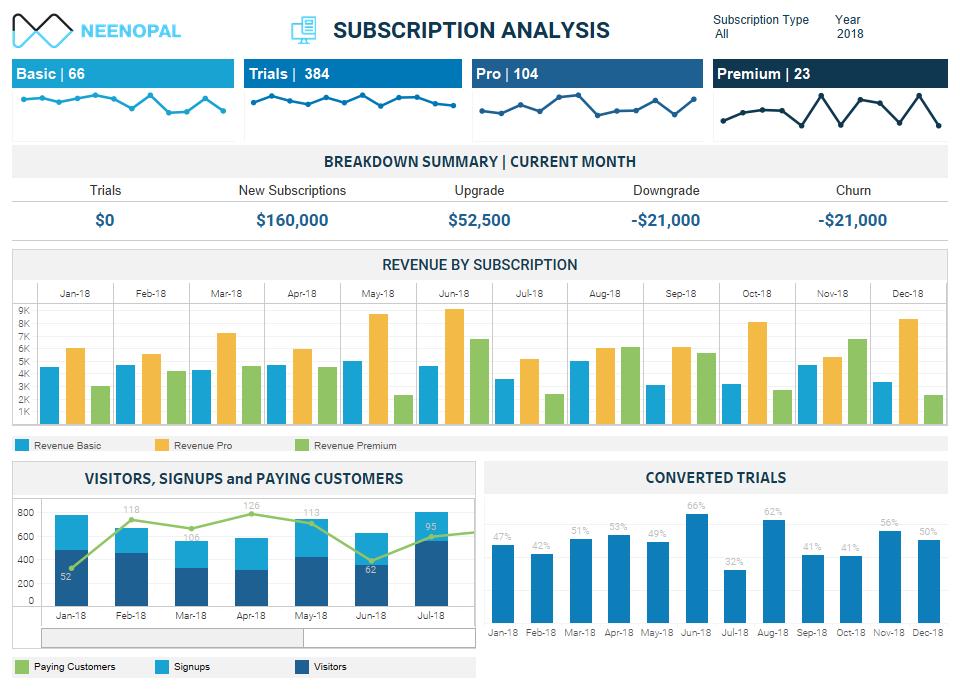 Analysing subscriptions by type and revenue generated from them on a month-on-month basis can give a detailed understanding of customer preferences and help devise pricing strategies for the company.

Visitors, Signups and Paying Customer trend helps measure the size of the audience and track their journey while they set up and use the software. The visitors can be attributed to marketing strategies, signups can be attributed to engaging user content followed by a good demo/trial software experience for a converted customer. Any dips/highs in the monthly trend can be further analysed by company executives.

Understanding users who never upgrade can help identify customers that may not be worth pursuing. Dedicated analysis of trials, churn, active users and more can help make informed decisions on how to best grow your subscription business.
SaaS Customer Support
Goals

Questions to ask

Dashboard views

Track the requests logged for your product


Enhance customer experience
Are customers satisfied with your product services?

How efficient is the problem resolution process?

How is the IT support staff dealing with issues?
Customer feedback

Tickets created vs resolved
Current status

Open Tickets
Avg. time taken to resolve issues
Missed Calls
Read your consumer's pulse through a comprehensive report of key customer centric KPI's.

Tracking support queries and feedback on software improvement can help retain current customers and reduce customer churn.
Advantages
Monitoring and data collation tool that brings together Key Performance Indicators and metrics directly related to online software distribution.

Clear, relevant and up to date information obtained from varied sources and presented in an easy-to-understand manner.

Save money and better target your customers through faster and hassle-free decision making with dashboards.