Ecommerce Analytics Playbook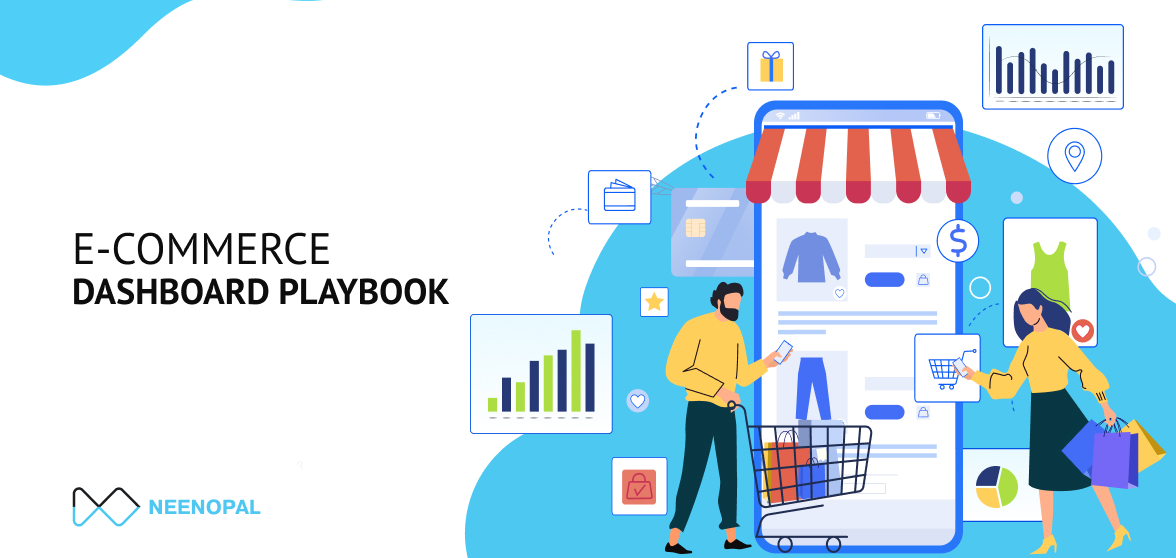 INTRODUCTION
Data analytics is changing the way Ecommerce companies operate and work. Data is available for each and every move a customer takes from the time he browses a product to the time he provides feedback. This is both good and bad! The huge volume of data can be a challenge because determining what is important from it can be time-consuming. However, processing and analyzing it the right way could bring out insights that will help the company stay ahead of the competition. Data-driven decisions bring in more revenue, helps in understanding customer patterns and behavior, quantifies the customer value and forecasts potential opportunities.
Here is a list of 22 dashboards that cover this entire domain. It can be divided into six categories:
Marketing Dashboards
They help in monitoring the marketing performance of the companies, thus giving a clear understanding of where the company stands and how it should proceed in future. With the increase in importance of inbound marketing, more focus has been given on social media and email marketing, and website analysis.A dashboard on marketing mix has also been included to get an overall picture. These reports could help the marketing managers to decide on which area to focus while planning the future strategies. It could also help them in stopping/eliminating the spend on channels which are not profitable.
---
Customer Insights Dashboards
No business can reach heights without a steady stream of happy and satisfied customers. Understanding the customer needs helps in serving them better. Customer insights dashboards monitor the current customer acquisition trend, retention and churn rates and look at the various possibilities of customer segmentation. It could help draw strategies that could lower the acquisition costs, raise the retention rates, provide streamlined and more effective customer service, thereby increasing revenue and profits.
---
E-Commerce Sales Dashboards
Sales KPIs are considered as the most important KPIs for any business. Sales dashboards help the managers and other executives of the company to monitor the sales and profits from different sources at a single place, helping them in setting the sales targets for the team. Without accurate data at fingertips, further demand forecasts and resource planning will be difficult for the sales team. The reports in this category provide a detailed analysis of the revenue, thus providing deeper insights for the team to work on
---
Operations Dashboards
Sales, offers, discounts and coupons are important tools for any E-Commerce, especially for increasing the market share. A clear picture of the current inventory and having a good inventory management system is necessary to use these tools in the most effective way. This is also critical for the company's working capital management strategy and for achieving operational efficiency. The set of dashboards in this category helps in taking decisions vital for the smooth operation of the business.
---
Financial Dashboards
No business can survive without proper financial management.F unds are needed for the day-to-day operations, expansion plans and for all other goals of the business. Financial dashboards help to track expenses, sales and profits in detail and helps the company to have an effective cash management system. The dashboards in this category track all the relevant finance related KPIs , thus assisting the business in taking important financial decisions.
---
Product Insights Dashboards
Product ratings influence E-commerce purchases. Understanding what products customers like, and what they are likely to purchase helps in planning future strategies. Identifying top profitable products, top profitable bundles, top non-performing products help in realizing what works and what does not.
Other Blogs